KNIGHTS TEMPLAR (WITH ALMOUROL CASTLE)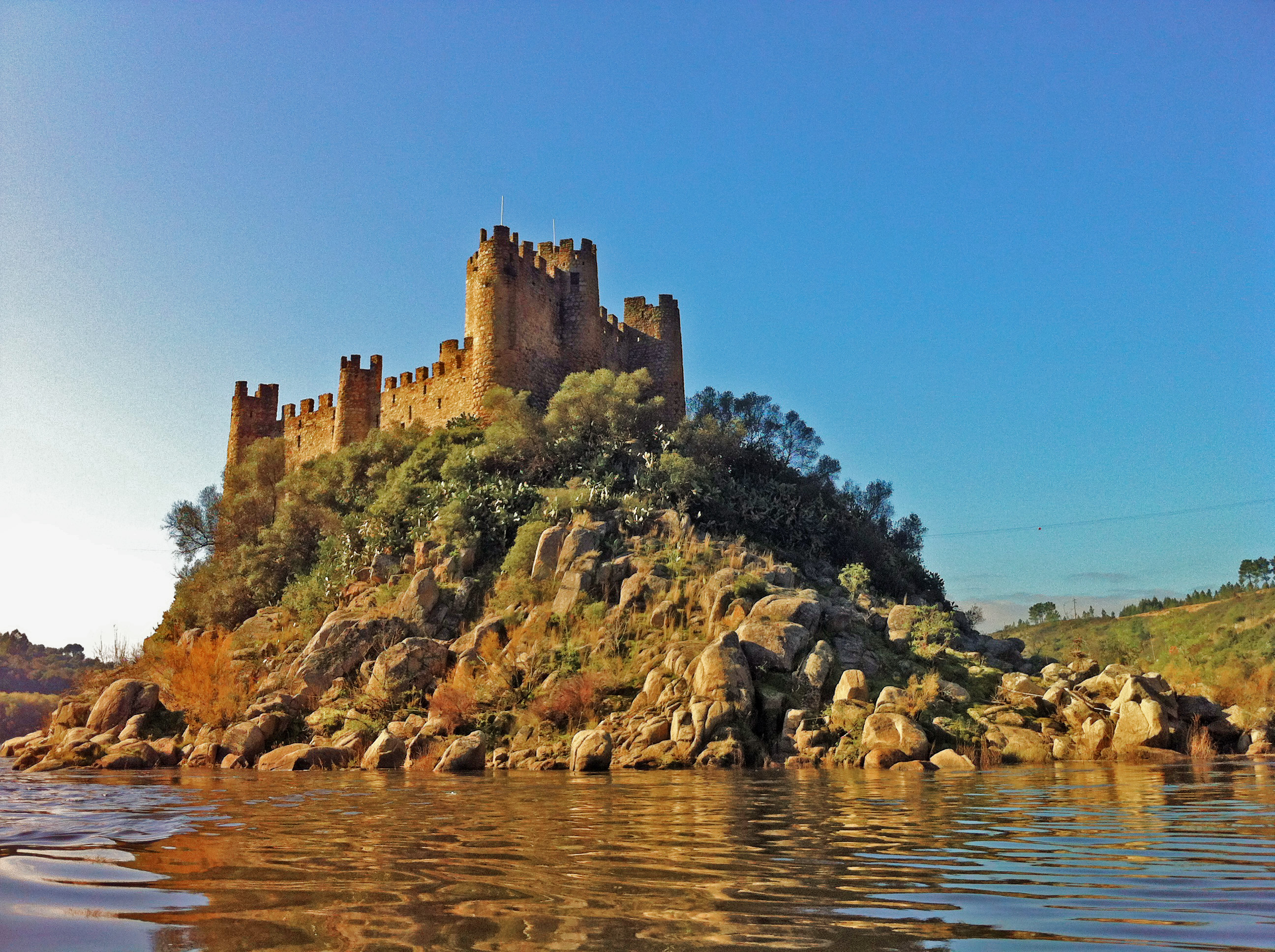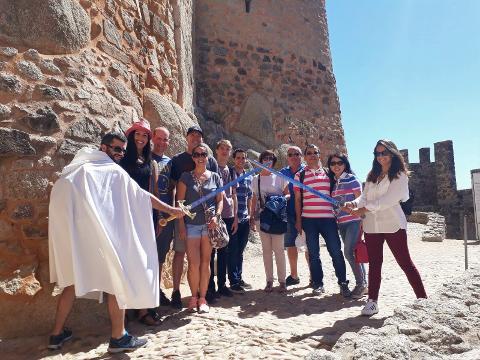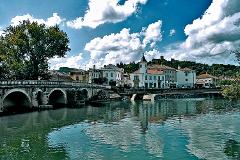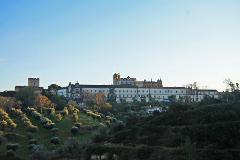 Duration: 9 Hours (approx.)
Product code: TEMPLAR TOUR
KNIGHTS TEMPLAR TOUR
Includes:
Hotel pickup (or nearest location possible) only in certain areas of the city (center). It may be required to get to a meeting point for pick-up
Drop-off at 2 centrally located points: Restauradores square / Marquês de Pombal
Small-group tour (8 people max.)
Professional but informal local guide
Transport by air-conditioned minivan
Live commentary on board
WiFi available in the minivan
Boat ride to Almourol Castle (susceptible to weather conditions)
Entrance fee to Convent of Christ in Tomar
Local pastry
Does Not includes:

Lunch
Gratuities (optional)
Food and drinks, unless specified
Hotel drop-off
We start this medieval journey towards the Santarém District, in the central area of Portugal. Our first stop will be at Almourol Castle, one of the trademarks and most famous 'postcards' of the country. Erected 18m (60 ft) above sea this small granite island has 310m (1.000 ft) long by 75m (245 ft) wide in the middle of Tagus River.
The castle is an incredible sight, one of the most representative examples of the military architecture of the 12th century. It evokes simultaneously the early days of the Kingdom of Portugal and the Templar Knights Order. It is said that it was constructed by the Romans. Later it was remodeled by other invading people like the Visigoths and Moors. But with the Reconquest, it was conquered in 1129 and placed in trust of Gualdim Paes, the Grand Master of the Knight Templars.
Afterwards we continue to Constância, a small charming village where Luis de Camões (one of the most famous Portuguese poets) lived and used to write his lyrics poems. Constância once was called after a roguish name but got its new name in 1833 because of the 'constant' support of the liberal cause led by D. Maria II.
We proceed next to Tomar, a land given as a fief to the Templars and was specially important in the 15th century when it was a center of Portuguese overseas expansion under Henry the Navigator, the Grand Master of the Order of Christ, the organization that succeeded the Templars in Portugal. In here we can visit the Church of Santa Maria do Olival, the headquarters of the Templars and also a pantheon of all Grand Masters.
After lunch and some free time to stroll around Tomar, we will proceed to S. João Batista church, located in the main square of the town, in front of the Town Hall and a statue of Gualdim Paes. In the same area, we continue to visit the best preserved medieval synagogue in Portugal. It was built in the mid-15th century by Prince Henry The Navigator, and has an incredible interior with Gothic details.
We finish this day in a great fashion: The Christ Convent is a magnificent monument, a Templar stronghold back in the day, constructed under the orders of Gualdim Paes and now a UNESCO World Heritage Site.
NOTE:
Boat tour is subject to favorable weather conditions. If the boat tour is canceled due to poor weather, you will be given the refund, in case you already paid for it. An alternative will always be available.

_________________________________________________________________________________________________________
TOUR DOS CAVALEIROS TEMPLÁRIOS
Inclui:
Recolha no seu hotel (apenas localizados no centro de Lisboa). Pode ser necessário a sua deslocação até um ponto de encontro para a recolha.

Largada efetuada em dois pontos no centro de Lisboa: Praça dos Restauradores ou Marquês de Pombal.
Passeio de grupo pequeno (8 pessoas max.)

Guia informal
Transporte efectuado em minivan com A/C

Comentários ao vivo e a bordo
WiFi disponível no interior do veículo
Passeio de barco até ao Castelo de Almourol (sujeito às condições metereológicas)
Entrada no Convento de Cristo
Doce típico
Não inclui:

Almoço / refeições, a não ser as especificadas
Gratificação ao guia (opcional)
Largada no hotel

Começamos esta viagem medieval em direcção ao distrito de Santarém, uma cidade situada no centro do país. A nossa primeira paragem será no Castelo de Almourol, uma das marcas registadas e um dos mais famosos 'cartões postais' de Portugal. Erguido a 18m acima do nível do mar, esta pequena ilha composta essencialmente de granito tem 310 m de comprimento por 75 m de largura e está localizada no meio de um dos afluentes do rio Tejo.
O castelo é uma visão incrível, um dos exemplos mais representativos da arquitetura militar do século XII. Evoca simultaneamente os primeiros dias do Reino de Portugal e a Ordem dos Cavaleiros Templários. Dizem que foi construído pelos romanos. Mais tarde, foi remodelado por outros povos invasores, tais como os visigodos e os mouros. Mas com a Reconquista, foi conquistado em 1129 e entregue à guarda de Gualdim Paes, o Grão-Mestre dos Cavaleiros Templários.

Depois seguimos até Constância, uma pequena e encantadora vila onde Luís de Camões viveu durante algum tempo e escreveu poemas líricos. Constância chegou a ser apelidada por um nome menos lisonjeiro mas obteve o seu novo nome em 1833 devido ao apoio 'constante' da causa liberal liderada por D. Maria II.

Seguimos viagem até Tomar, uma terra dada como feudo aos Templários e especialmente importante no século XV, quando era um centro de expansão ultramarina portuguesa sob o comando de Henrique, o Navegador, o Grão-Mestre da Ordem de Cristo, a organização que sucedeu aos Templários em Portugal. Aqui podemos visitar a Igreja de Santa Maria do Olival, sede dos Templários e também um panteão de todos os Grandes Mestres.
Após o almoço e algum tempo livre para passear por Tomar, seguiremos para a igreja de S. João Batista, localizada na praça principal da cidade, em frente à Câmara Municipal e a estátua de Gualdim Paes. Na mesma área, podemos visitar a sinagoga medieval melhor preservada em Portugal. Foi construída em meados do século XV pelo príncipe Henrique, o Navegador, e tem um interior incrível com detalhes góticos.
Terminamos este dia de uma maneira excelente: o Convento de Cristo é um monumento magnífico, uma fortaleza dos Cavaleiros Templários, construído sob as ordens de Gualdim Paes e agora um Património Mundial da UNESCO.
NOTA:
O passeio de barco está sujeito às condições climatéricas. Se o passeio de barco for cancelado devido ao mau tempo ou subida anormal do caudal do rio, será reembolsado, caso já tenha pago de antemão. Será sempre apresentada uma alternativa, caso esta situação se verifique.